Maths
Maths at Firthmoor Primary School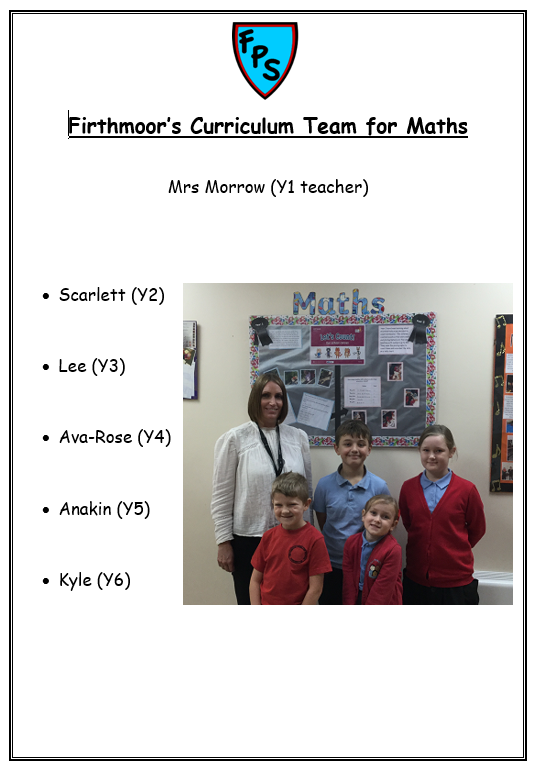 At Firthmoor Primary School, we aim to ensure that our pupils can confidently and competently apply basic number facts and calculation methods in solving mathematical problems across the curriculum.
Maths lessons starts with a ten minute 'Rapid Maths' activity to practise and reinforce key mathematical skills. Lesson objectives are drawn from the National Curriculum framework with opportunities to cover all aspects of fluency, reasoning and problem solving.
Children have access to a wide range of practical resources including number lines/squares, dienes and Numicon equipment. Interactive whiteboards, laptops and ipads allow children to experience a variety of online learning resources. Wherever possible, staff present pupils with a 'real life' context for learning.
Extra support and challenge is provided through 1:1 and small group intervention sessions. Y5/6 pupils are able to attend Mathletics booster sessions in the Computing Suite before school each morning whilst invited pupils from Y1 to Y6 work 1:1 with an adult at an after-school Maths Club every Tuesday.
Children are assessed on times table knowledge, arithmetic and reasoning skills on a half-termly basis.
Older pupils participate in the annual UK Primary Maths Challenge with the school celebrating a number of medal winning successes in previous years.
Cohort Long Term Overview for Maths
In maths we follow the objectives set out in the National Curriculum for each year group. They are divided up into different areas of maths for example number and calculations, shape space and geometry, fractions etc. We also use examples of problem solving and reasoning from White Rose to accompany our delivery of maths.
Click on the links below to view each cohort's long term overview;
Maths Long Term Planning Year 1
Maths Long Term Planning Year 2
Maths Long Term Planning Year 3
Maths Long Term Planning Year 4
Maths Long Term Planning Year 5
Maths Long Term Planning Year 6
National Numeracy Day
Summer 2023
Y5LJ worked together in pairs to solve some puzzles and problems.  Here are some of the children's thoughts:
"I think it's fun to solve problems but it can be quite tricky!" – Jack
"The puzzles were hard but because they're fun, it's not frustrating!" – Oliver
"Normally, I'm not too keen on Maths but this has been fun." – Layla
"I really liked solving the equations but it was really tricky." – Lucas
"I think the puzzles have shown how much we listen in Maths because we have had to use lots of different skills to solve them." – Thaila
In Mrs Blagg's and Mrs Howland's class we took part in National Numeracy Day by watching the live stream.  We learnt dance moves to Maths vocabulary and we learnt number facts from the quiz. Then we solved Mathematical problems and puzzles.
'Let's Count' Census
The children have been learning about the National Census. Each class decided what they would like to count. The Early Years children asked each other about their favourite piece of fruit at morning snack and the minibeast they could see in the school grounds. Older pupils counted characters in books and the number of steps needed to complete laps of our 'Red Mile'.
Information was represented in a variety of ways. We are now experts at tallying, completing tables, drawing pie charts and line graphs.