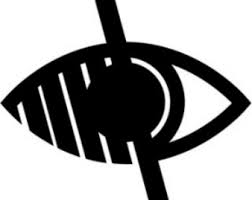 History
History at Firthmoor Primary School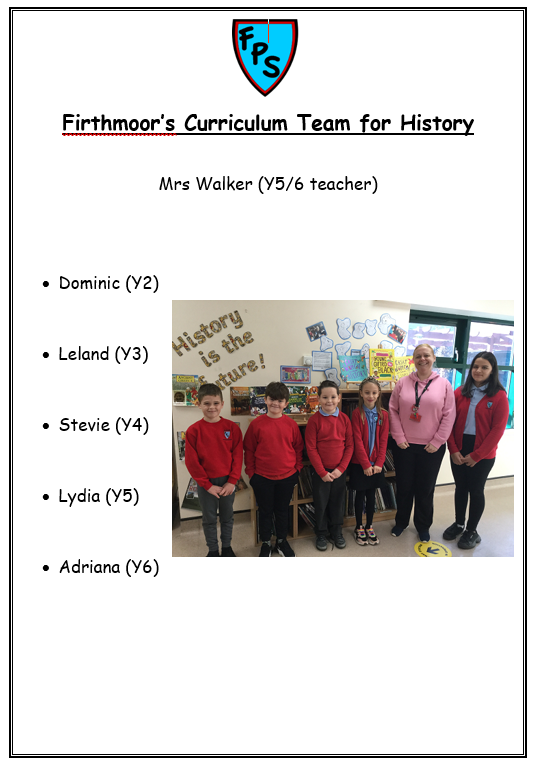 At Firthmoor Primary School, History is taught following objectives from the National Curriculum framework and is covered each term by looking at a new and exciting topic! History can be taught in a block or weekly lessons. Children are encouraged to learn through research, using books, the Internet and looking at artefacts from the past.
A fun way of learning about History is through inviting visitors into school and going on visits to places of historical interest. Classes have enjoyed activities at locations such as Hadrian's Wall, Jorvick and Whitby Abbey. A group of girls even had the opportunity to listen to the author Kate Pankhurst speak on the topic of 'Fantastically Great Women who made History'.
The children have access to a plentiful selection of History books from across the eras, which are all displayed in the corridor for them to browse at their leisure.
Useful websites for home learning
Gypsy Roma Traveller Workshops
Y3/4LJ and Y3/4HI recently enjoyed a cultural awareness workshop about Gypsy Roma Travellers as part of Gypsy Roma Traveller History Month. The children learnt lots during the session and enjoyed learning about the history and culture of Gypsy Roma Travellers. They could all remember lots of facts they had learnt at the end of the session. The children had lots of fun learning about the work of the artist Gabi Jiminez and created their own pieces of art in a similar style.
Life in a Roman Fort
Y4MT have been learning about the Romans and how life changed in Britain after they invaded.
We took part in a virtual visit to the Roman for Segedunum. The children learnt about what life would be like for a Roman soldier who lived at the fort near Newcastle.
After the visit the children took part in some Roman soldier training and army drills with their Roman Legionary Centurion – Miss 'Julius Maximus' True.
The Titanic
The children in Year 2 have been learning about the Titanic. In class Y2WC we have enjoyed finding out about the ship's history.
Activities have included learning about the amazing size of the ship and how it was thought to be unsinkable, to finding out about the different experiences of the passengers who sailed on her, and finally, the disastrous events that took place in April 1912.
To complete our topic, the group have thoroughly enjoyed working as a team to build the Titanic by recycling boxes and different materials to create their magnificent ship. Fabulous teamwork!
Toys Past and Present
The children in Year 1 have learnt all about toys and how they have changed within their living memory. They discussed how toys today are made, what they look like and the materials they are built from. We found out what kind of toys our parents and grandparents played with (thank you for filling in the questionnaires we sent home) and compared them to see if there were any similarities or differences with more modern toys. The children loved exploring older toys and were much better at using a Jacobs Ladder than the teachers!
The children can now use and name some toys from the past and say why they look the way they do e.g. they were hand painted, plastic wasn't invented then, they didn't have moving parts etc. The children have also been introduced to how lifestyles have changed and we can see that through who played with toys in the past. They can discuss that boys were only allowed to play with 'boy' toys and girl with 'girl' toys. That Sundays the children went to church and were only allowed to read the Bible or play with Noah's Ark. Well done Classes Year 1!
Local History Study – Visit to Head of Steam Railway Museum
Mrs Morrow's and Mrs Blagg's classes visited the Head of Steam Railway Museum in Darlington as part of their History Topic. They were amazed when they saw the original Locomotion No.1 which is almost 200 years old! Everyone completed a trail around the museum looking at original artefacts to find out about the history of the railways in Darlington. They found out about the different jobs on the train and completed a fact sheet about George Stephenson.
Weaving and Dyeing the Anglo-Saxon Way!
Have you ever wondered how your clothes become their lovely colours? Children in Mrs Walker's class have been learning about the Anglo-Saxons; we have been comparing the clothes they wore then with those we wear today! We have learned that all of their garments were made using natural materials such as wool and linen and that they made use of natural dyes to make them more colourful. They used things like: red cabbage, turmeric, spinach, blackberries and beetroot.
During our history lesson we had a go at dyeing pieces of linen using these foods.
We have also learned how to weave as this is how yarns were used to create large pieces of material which were then used to make their clothes!
The History of Pantomime
Our Year 6 children spent the day at Darlington Hippodrome Theatre learning all about the history of pantomime. They participated in workshops where they learned about the history of our local theatre, which has just had major renovations, and discovered when and where the first pantomimes were created. They investigated similarities and differences between pantomimes past and present, and found out that throughout the years, characters have always been flamboyant, humorous and that audience participation is an essential part of a performance! This year's pantomime was Jack and the Beanstalk starring the famous Shirley Ballas from Strictly Come Dancing! After watching this production, the children had the opportunity to meet her and other actors who starred in the performance…oh no you didn't…OH YES WE DID!!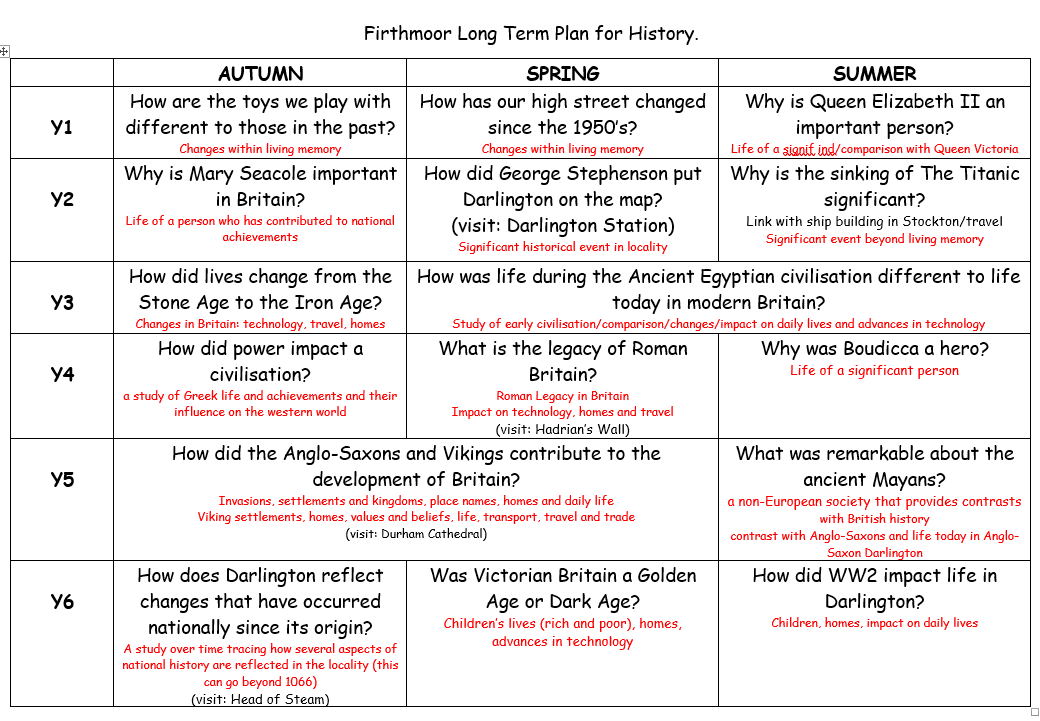 Do you love History? Listed below are some websites you and your child can use to help support their learning.
www.natgeokids.com/uk/category/discover/history
The website below provide links to online games or apps that can be downloaded and used to support History learning.
www.busythings.co.uk/families/subjects/history