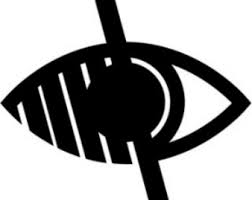 PSHE
PSHE at Firthmoor Primary School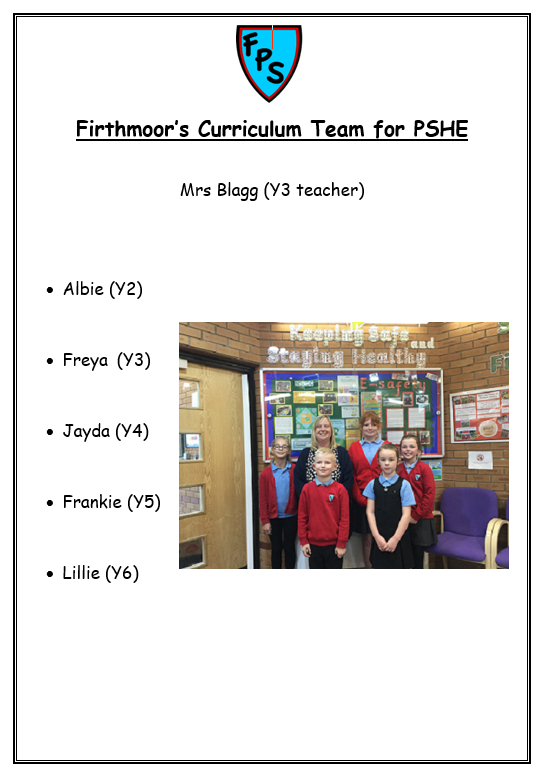 Our aim for PSHE is to enable our children to become healthier, more independent and more responsible members of society. We encourage them to take responsibility for their own health and well-being and to play a positive role in contributing to the life of the school and wider community, and to prepare them for life and work in modern Britain.
At Firthmoor Primary School, we follow the PSHE Association Scheme of Work. It is based on the three core themes of: Health and Wellbeing, Relationships and Living in the Wider World. Teaching includes circle time sessions and group work.
Relationships Education is covered within the PSHE Scheme of Work, and puberty links to the Science curriculum.
Themes such as Anti-bullying Week and Safer Internet Day are covered as a whole school.
Visitors are invited in to enhance topics such as healthy eating and healthy lifestyles.
Useful websites relating to Mental Health & Wellbeing, Covid-19 Support, Healthy Eating and First Aid
Young Minds – Support for Parents
Childline – Coping with Stress
NSPCC – Worried about COVID-19
Healthy Eating Week – 13th-17th June 2022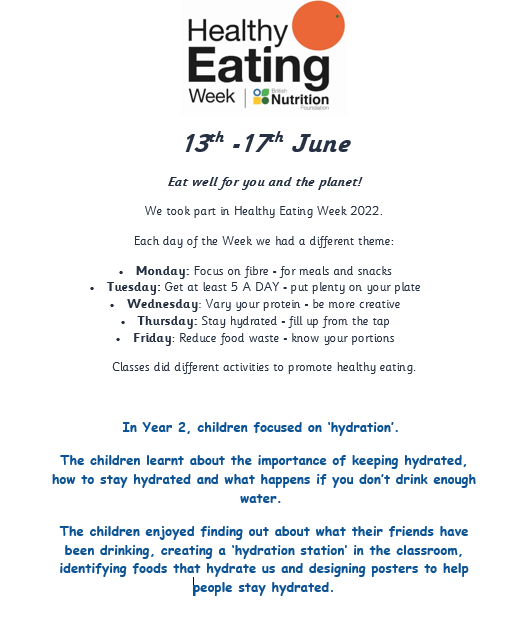 In Year 3, children focussed on 'fibre' and created a 'fibre' snack trying different foods high in fibre. 
Year 5 children created posters on staying hydrated.
Safer Internet Day 2022


Anti-bullying week 2021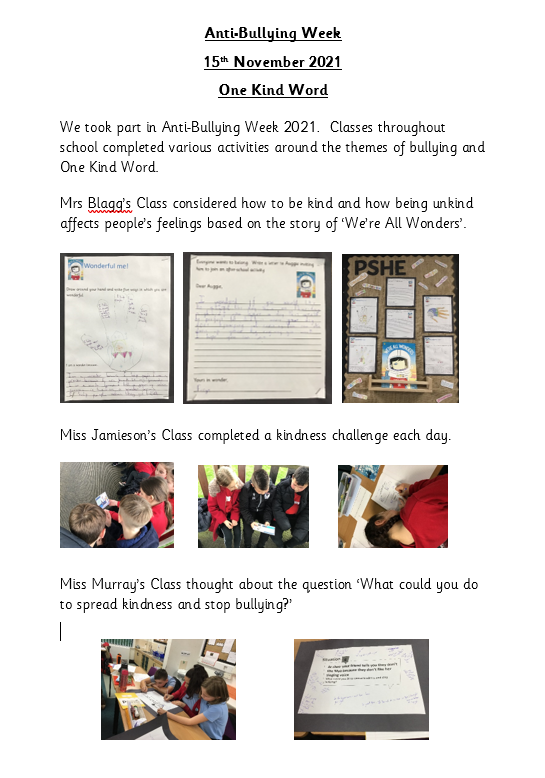 Gypsy Roma Traveller Workshops
Y3/4LJ and Y3/4HI recently enjoyed a cultural awareness workshop about Gypsy Roma Travellers as part of Gypsy Roma Traveller History Month. The children learnt lots during the session and enjoyed learning about the history and culture of Gypsy Roma Travellers. They could all remember lots of facts they had learnt at the end of the session. The children had lots of fun learning about the work of the artist Gabi Jiminez and created their own pieces of art in a similar style.
Layla's Achievement in Beaver Scouts
Layla in Year 3 is very close to finishing her final challenge badge which then qualifies her for the top bronze award that is achievable by a Beaver Scout.
Layla decided for the final part of her challenge badge, she wanted to do something which would help the local community, so she decided to contact the appropriate people to obtain some litter picking equipment.
Once her equipment arrived, Layla went picking as much litter as she could around Maidendale Nature Reserve.
Layla's family and the school are very proud of her achievements in Beaver Scouts, and also that she chose to help the community for the final part of her challenge badge.
Well done Layla!
'Action for Happiness' calendar
Please click the link to see hints and tips to help us all create a kinder and happier world.
https://www.actionforhappiness.org/calendars
Active Citizenship
Two of Firthmoor's Year 6 children, Isabelle and Jasmine, were selected to take part in a discussion with a panel of local councillors, followed by questions about 'life during Covid'.
Prior to the discussion, the panel had received evidence from council officers, academics, mental health practitioners, youth groups and charities about what has been on offer during the pandemic. Councillors were interested to hear directly from young people in order to understand whether those services had been known about, accessed equally across the borough and covered the full spectrum of needs of all children and young people throughout the town.
Isabelle and Jasmine gave their views articulately and in detail. They received a certificate of participation and appreciation for their good citizenship, and also a full 'young person friendly' report on the findings of their involvement.
Well done Isabelle and Jasmine!
Coronavirus – A Book for Children
This is a free digital information book for parents and carers to share with their children, to help explain the Coronavirus and the measures taken to control it. It answers lots of questions in a child-friendly way, and aims to both inform and reassure. The book had expert input from Professor Graham Medley of the London School of Hygiene & Tropical Medicine, two headteachers and a child psychologist. Click here to go to the page where the book download is available.
Caring For Others – Supporting Firthmoor Food Bank
Once again, our families have showed their amazing generosity by donating food for the Firthmoor Food Bank. We asked families to donate an item of food as they came into school for their child's Christmas performances. As you will see from the photographs, the donations came in their dozens! On behalf of the school, and more importantly on behalf of Firthmoor Community Centre, who were absolutely thrilled, we would like to thank our families for all their donations.
Anti-Bullying Week
We participated in Anti-Bullying Week once again this year. The theme this year was 'Change Starts With Us'. All classes will be took part in lessons to talk about what bullying is and the different types of bullying that may occur.
You can find more about Anti-Bullying Week at https://www.anti-bullyingalliance.org.uk/anti-bullying-week/anti-bullying-week-2019-change-starts-us
You can see below examples of some of the activities each year group were involved in.
Staying Safe – Safer Futures Live!
Once again, our Year 6's have taken part in the annual event Safer Futures Live! at Newton Aycliffe. The event is attended by representatives from the Lifeboat Service, Durham & Darlington Fire Service, Durham Constabulary, the National Health Service and Northern Powergrid. The event is aimed at youngsters to raise awareness of safety both inside the home and outdoors.
Caring For Others – Children in Need
Children and staff were fundraising for Children in Need charities during this years event. We dressed in spots and donated money in school, which raised a grand total of £264.oo. We had a visit by Pudsey Bear to our Breakfast Clubs and the children were very excited to see him and give him a hug. Well done everyone, and once again, thank you for your continued support.
World Mental Health Day
At Firthmoor, we acknowledged World Mental Health Day on Thursday 10th October, specifically focusing on the charity Young Minds, and their theme of #HelloYellow! The children had an assembly to learn about mental health as well as doing work in PSHE lessons. On the day, the children worked on yellow paper and we decorated our school entrance lobby with yellow balloons and posters. The children wrote suggestions and ideas about how to look after your mental health, which staff and visitors to the school enjoyed looking at over the course of the day.
Mini Medics
Last week, we introduced basic first aid workshops for children within our in school. Every young person is capable of helping in an emergency situation if given the correct training, and they will be able to use the skills learned for the rest of their lives, to ultimately save lives! We arranged for Langton Medical Training to come into school to deliver the basic first aid workshop to the children. The workshop was fun, informative, and of course, age appropriate, using mannequins and other training equipment. During the workshop, the children were taught the essentials such as basic life support, dealing with choking, dealing with bleeding, dialling 999 and much more.
School Council Ballot
Pupil have been voting for who they would like to be see become part of our School Council for the academic year 2019/2020. Part of the role of being a School Councillor involves meeting with school staff and being involved in some of the brain-storming and decision making relating to issues such as playground equipment, menu choices, fundraising events and extra-curricular clubs. In their classes, children 'hustled' to their peers the reason they thought they'd 'cut the mustard' as a School Councillor to win their votes. Teachers, prior to voting, had taught their pupils about polling stations, ballot papers and democracy/our democratic society. Children then completed ballot papers indicating who they would like to see become a member of our School Council. Once all the votes have been counted, we will post a picture or our new School Council Team. In the meantime, we hope you enjoy looking at the photographs below of some of the children posting their ballot papers into the ballot box.
As a result of the ballot, see below our 2019/2020 School Council, representing pupil voice throughout Firthmoor Primary School, pictured with our Inclusion Officer, Mrs Kilpatrick.
Healthy Eating – British Nutrition Foundation Week
British Nutrition Foundation Week
PLEASE NOTE THAT THE PSHE AND RSE POLICIES ARE CURRENTLY UNDER REVIEW AND WILL BE PUBLISHED TO OUR WEBSITE IN THE VERY NEAR FUTURE.
Living in the Wider World will be the focus for Summer 2020, and the new Long Term Plan be effective from September 2020.