School Timetable and Term Dates
School Timetable
School opens for breakfast club at 8.20am each day and closes at 4.30pm when clubs are finished. Breakfast club must be booked via our booking system via https://firthmoor.org.uk/breakfast-club/
All pupils must be in school by 8.45am for registration and teaching ends 3.15pm.
Nursery hours are 9:00am – 12:00pm. 15 hours per week, morning sessions only
School Term Dates – Academic Year 2023-2024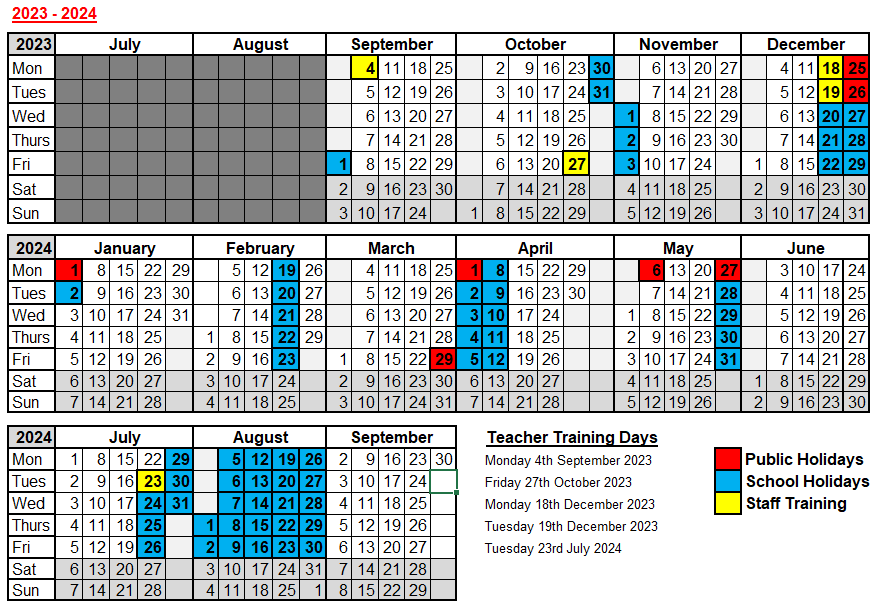 During the academic year the school is closed for teacher training activities. Our training days for 2023 – 2024 are:
Monday 4th September 2023
Friday 27th October 2023
Monday 18th December 2023
Tuesday 19th December 2023
Tuesday 23rd July 2024
For 2024 – 2025 Darlington School Holiday dates, please click here
Key Testing Dates for 2024
Year 6 SATs – week commencing Monday 13th May 2024
Multiplication Tables Checking – week commencing Monday 3rd June 2024
Phonics Screening – week commencing Monday 10th June 2024
School Holidays During Term Time
Please note that the law currently states that headteachers can not grant any leave of absence in term time unless there are exceptional circumstances. If you take your child out of school without the school's permission, and this absence amounts to 7 days or more, you could receive a fine from the local authority. Please plan your family holidays with the school term dates in mind to avoid the possibility of a fine.
Please contact the school office for a leave of absence form if you need to take your child out of school during term time.